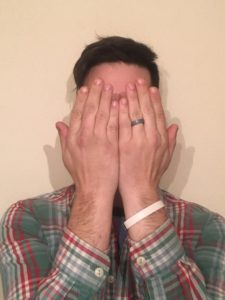 When I started talking to David it was clear that this was going to be a special interview.  He had so much to talk about and such a vulnerability about him and he was willing to go deep on anything we talked about very quickly.  So this is the first in a three part series that includes two episodes to cover his story and a third bonus episode featuring some of the pre-interview process and what came up there.  Unlike the first 5 episodes, this one is produced as a conversation between him and I.
David's story does involve sexual abuse and he gets very real with it.  With that said, David's story is sooooo much more than that.  It was a huge part of his awakening process, and as it is a huge topic right now among the cult of Jehovah's Witnesses it is featured, but it was but one part of David's story.  It plays a pivotal role in his path out of the cult, but even then his story just builds and builds throughout these episodes.
In Episode 6 – Part 1, you will get to know David a bit.  This episode builds and will take you through David's upbringing and right up into the beginnings of adulthood.  You will learn a lot about him and if you aren't familiar with the cult of Jehovah's Witnesses you will learn about it as well through this process.  There is no mention of the abuse in this first part, so no trigger warning is necessary.  That will come in Part 2 and the way these things are handled in the cult will be discussed there.
In these three parts David makes mention of many resources that impacted his life, as well as the song that he chose for his story.
Resources (in no particular order):
'Knock, Knock' Who's There?:  'The Truth' About Jehovah's Witnesses by Anthony James
ExJW Critical Thinkers Videos (you can also find the audio in podcast format on iTunes, Google Play, and other podcast services)
This JW Life Podcast – This happens to be my other podcast where I tell my own life story and help people to understand what life in the cult was like.  You can listen directly from the website or find on iTunes, Google Play, and other podcast services.
Leah Remini:  Scientology and the Aftermath
Crisis of Conscience by Ray Franz –  Ray Franz was a member of the Governing Body of Jehovah's Witnesses, the farthest you can go in the organization.  His story of the behind the scenes goings on of the organization is gripping and heartbreaking at the same time.  I have linked to a Google search for the pdf.  Look around and you'll find it.  Copies of the book are rare and it has been rumored that Jehovah's Witnesses buy and destroy them.  The copyright holder has held out hope of the book being released with no results.  For now this is likely your only way to obtain the book.
David's Song Choices –
Belle & Sebastian – The Boy Done Wrong Again